Another job finally completed.  The door under the stairs is completed and looking good.
Having fitted a standard 800mm door into the opening, I added 2 MDF panels to the exterior of the door to line up with the recessed skirting. As the door hinges inwards there is no need for any handle on the outside.
To keep the door open we found these clever foot latch door stops – delivered all the way from New Zealand for just a few Euro.  We ordered a selection of door stops as well and they arrived within 7 days – now there is service.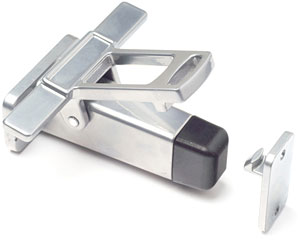 http://www.miles-nelson.com/latching_door_stops.php