Finally, with the floor in the living room fully polished it is time to start putting in the fitted appliances .. namely the stove.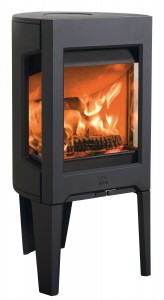 We've selected a Jotul F163 Stove and twin-wall flue supplied by Murphy Heating in Kinvara – http://www.murphyheating.com
For now we'll put it in situ but won't fit the flue and get it working for a few weeks.  For now we can simply enjoy the reflection on the shiny new floor.
We have a twin-wall flue which will rise up over 5 metres to the underside of the roof where we already have the flue fixed through the roof space and roof outside.  There is also a vent plate which is fixed to the underside of the ceiling on the inside to allow some ventilation into the roofspace.